Hello friends!
Here in Rome, few weeks ago was the first real day of spring! It was really warm and sunny it seemed to be almost summer time!
Due to this reasons me and my husband decided to spend a day inside nature. After a long and peacefully walk in the garden of Villa Borghese we decided to took a look of the urban zoo.
The first feeling we had was a bit of surprise! Actually the zoo is way better compared with how it looks like from the outside, and it was also bigger than I expected!

I took a look of the Zoo's website in the past months and I was really excited to visit it because surfing in the Zoo's website, I noticed that there were a lot of animal species hosted, so I was absolutely curious about that!
I must admit that the zoo is quite big and almost all animals have enough space. Of course in this personal opinion, I consider that the zoo is in the heart of one of the most chaotic cities in the world. If I think abput thr zoo I visited, my favorite one is the Bronx Zoo (here is the link to the related post), but compared to the famous Central Park Zoo, the zoo of Rome is better that the New York one. It 's bigger, animals have more space, and in Rome you can find more animals. So, I'm sorry the Central Park Zoo, but I prefer Rome Zoo!
If you will visit the zoo in the coming weeks, I suggest to invest additional 2 Euros to attend a special exhibition on the poop! Yes, it is not an error, the show is about the poop! E 'was really interesting and revealed a lot of things unknown and curiosity about poop. You can participate in some games like "Who did it", where you should look at a reproduction of animal poop and guess who did it. There are different games related to odors and visual attitudes all of them connected to the poop. My husband and I really enjoy this show and we had a lot of fun!
Extremely interesting was the pavilion MACRI (Environment Museum and crimes) where you can see a lot of crimes against animals and nature and its terrible effects.
In MACRI it is highlighted crimes such as poaching, leather and fur trades, the bones of a traffic of the teeth and also the use from oriental culture of parts of animals (such as tiger bone and bears bile) for a type of medications. It 'was amazing to see how we can wreak havoc on our world, with no respect for other species!
But let's talk about the zoo! Of course it was always quite emotional to see a tiger, or to be close to some wolf or bears, and in the same way it's been incredible and fun to see an elephant during his lunch hour! One of the things I love most of these places is the chance to observe the primate … every time I got lost in watching the monkeys and apes, and I'm always surprised by observing them and understand how we are similar! Finally, have you ever watched a monkey in their eyes? I think their eyes are something amazing and they told us a lot with just a quick glance … I do not want to bore you with too many words, so please find below a short film about my experience!
FYI (services information)
The Zoo is located in Viale del Giardino Zoologico, 1, close to Villa Borghese in the heart of Parioli neighborhood. Arriving at the Zoo is pretty easy, you can use Tram nr 9 or 3 Until "Bioparco Stop" (Also "Rossini" and "Aldovardi" stops are close to the Zoo gates.
Hour:
From 30th October to 24th March: every day from 9.30 am to 5.00 pm
From 25th March to 29th OCtober: from monday to friday 9.30 am to 6.00 pm, Saturdays, Sundays and Holidays the zoo opens at 9.30 am and closes at 7.00 pm.
Last entry 1 hours before the closing time.
Prices:
The tickets costs 16,00 Euros for adults, 13,00 Euros for over 65 and kids, it is free for kids under 10 years older
Poop Exhibition costs 2,00 Euros
Infine il Bioparco Express, il tren, Euros.
At last "Bioparco Express" (a little train for travel inside the zoo) costs 1,50 Euros.
Saturday, Sunday and holidays
Special exhibition like the animal feed are scheduled on Saturday, Sunday and Holidays. In addition of this exhibitions there are a lot of special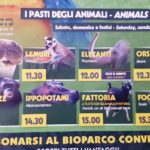 events thought for kids and adults. I suggest to take a look of the Zoo Website.
At last it is important to notice that the spaces are well organized and there are a ton of relax areas, picnic areas and games areas. In the same way there are a lot of bars and restaurants.
This was my saturday at the Rome's zoo! I think it was a very good experience, and the place was super cute, although something could work better.
For other uncommon bites of the eternal city
Stay Tuned!
Tricks in this post:
1. A day at Roma's Bioparco: not only for kids!